Let me make your dog 'The Envy of The Pack'
People and their pets are remarkably similar. Just as a great hairstyle can make you feel like a million dollars, your pet too enjoys looking great for those walks down to the park and of course, getting more attention at home!
Unfortunately, these days almost everyone is time-poor and simply don't have the time to spend washing and grooming their pet.
If you work long hours, have young children, study or you are just busy with life then having a mobile dog groomer may be just what you and your pet need. I provide a complete mobile dog grooming service for pets throughout Sydney's Eastern Suburbs.
Mobile Dog Grooming makes everything more convenient
Urban Dog Grooming arrives at your home in a customised dog grooming van. All that is needed is power and water and you can leave the rest up to me!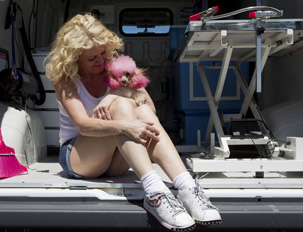 You can expect:
Fully trained pet stylist
Complete mobile pet grooming service delivered to your door
Flexible hours to suit your schedule (I can even wash your pet while you are out!)
A wide range of affordable treatments (see services page)
Great pet care advice and ongoing support
Modern equipment and professional care
Excellent service throughout the Eastern Suburbs of Sydney


Please phone or email for an appointment or for any information on the services I provide.