About Us - Eastern Suburbs Mobile Dog Grooming Service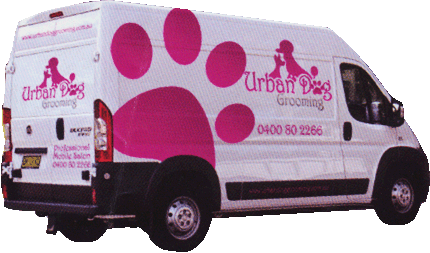 Urban Dog Grooming is a professional pet grooming service located in the Eastern Suburbs of Sydney. It is owned and managed by Sally McKenzie, a trained pet stylist who has been active in the industry for a number of years.
With the recent purchase of a customised mobile dog grooming van complete with a hydraulic lift (for larger dogs), deep circulating bath, specialty hoses, hair dryers, and a wide range of shampoos, conditioners and treatments, Urban Dog Grooming is now able to provide a full pet grooming and styling service for your dog at your home.
Mobile Dog Grooming - No Dog too Big, No Dog too Small!
Urban Dog Grooming's aim is to provide an affordable and convenient service for you and an enjoyable experience for your pet. Every pet is given the utmost care and pampering and your satisfaction with all aspects of the service are guaranteed (or your money back!)
And the best bit of all…
Urban Dog Grooming leaves no mess for you to clean up afterwards…just a beautiful dog for you to love and enjoy.
Urban Dog Grooming is fully insured.